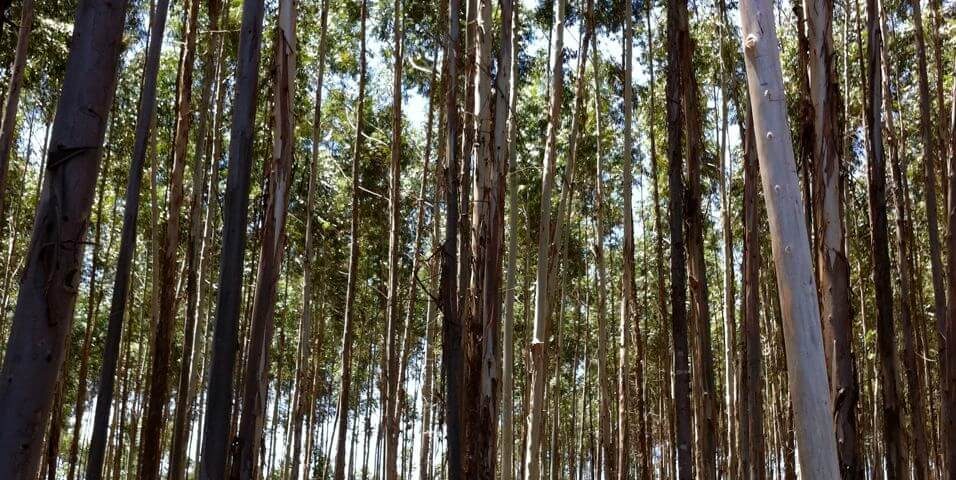 Many people think that agriculture ends at growing crops, rearing livestock like cattle, sheep, pigs, goats, or fish farming and they ignore agroforestry which many people have benefited from by growing eucalyptus.
However, experts in agripreneurship reveal that there are other forms of agriculture like growing trees and herbs, which are also income generating.
 The biggest advantage here is that unlike crops that are seasonal and are harvested once, trees like Eucalyptus, Pine, and other species are perennial, whereby a farmer can harvest them several times but they will keep sprouting into new ones.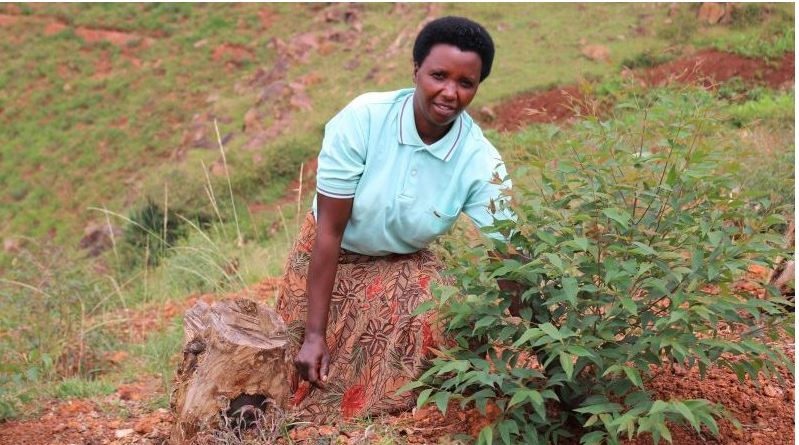 One of the prominent tree farmers in Uganda is Ponsiano Besesa, who sold his four-story-hotel in Kampala to invest in forestry last year. When he sold his hotel and told people he was venturing into eucalyptus tree planting, many of them thought he was going mad. But the old man had calculated and knew very well that trees would reap him more than what a hotel would.
Today, Besesa is the managing director of Besepo (U) Ltd, a company that plants trees and sells timber in Nbeeba, a Kampala suburb.
He owns several hectares of eucalyptus trees in various parts of the country which he says are the source of his peace and joy because of the millions he reaps from them every year.
Besesa says that; "I planted a total of 915 hectares of Pine and Eucalyptus trees in western Uganda with 100 acres planted in 1996 in Kabale, 142 planted in Mbarara in 1998, 250 acres planted in Kibaale from 1999 to 2001 and 423 acres in Kasana-Kasambya forest reserve in Mubende district."
"I bought all the pieces of land using income from the sale of timber with exception of the land in Mubende which was given to me by the then forest department which is now National Forest Authority in 2003 for the same purpose," he added.
Eucalyptus is a tree species of choice for many commercial farmers because it is multipurpose, fast-growing and has a ready market, yet it is a perennial tree.
Its wide range of products such as firewood, charcoal, building materials, fencing posts, transmission poles, pulpwood, timber, and plywood makes the genus versatile.
Plantation of Eucalyptus
The same golden rules for the establishment of all eucalyptus crops apply; namely through land preparation, pre-plant weed control, planting only good quality seedlings, planting early in the rains, blanking no later than three weeks after the initial planting, and most importantly, regular weeding in the first few months after planting.
Best Eucalyptus Species
Although there are so many eucalyptus species in the country, only five to eight species are well adopted by farmers.
The major species being Eucalyptus Grandis and Saligna species, which are suitable for cooler and wetter areas around the Lake Victoria belt, and the Eucalyptus Camaldulensis which grows well in hotter and drier climates.
Factors Influencing Cultivation
Seeds are sown in the nursery and they take between 7-14 days to germinate. When the seedlings are at the two-leaf stage, they should be picked out and put into individual containers or polyethylene sleeves.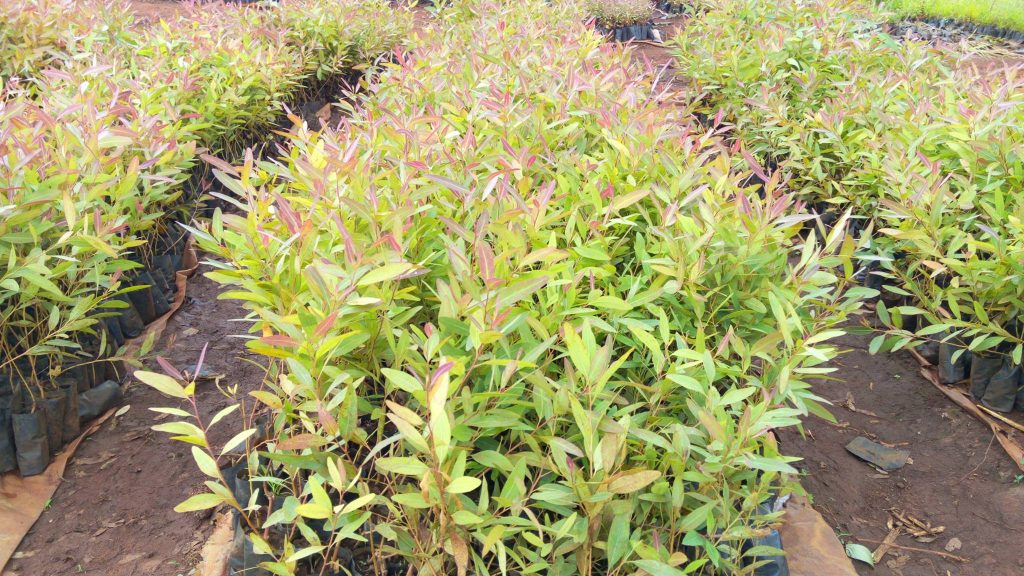 Proper fertilizer/manure use is recommended for healthy and vigorous seedlings. For the period the seedlings will be in the nursery, they should be protected from excess sunlight, strong winds, weeds, pest, and diseases.
The seedlings should also be watered (every morning and evening), with care being taken to avoid waterlogging.
Routine root pruning (at least twice) should also be practiced especially if the seedlings are grown in open pots.
The seedlings should be maintained in the nursery until when they have attained a plantable height of 25-35cm, approximately 4-5 months later.
Growth Habit
Eucalyptus trees are generally evergreen trees; new leaves appear as the old ones are shed. It has no well-defined season of growth and continues to grow in all seasons.
It attains a height of about 30 meters and more with a straight clean pole. They have the ability to colonize bare ground without shelter. Some of the species occurring in extremely dry areas are no higher than shrubs.
Planting and Husbandry
The spacing during field establishment determines the final tree population per unit area of land. The spacing is determined by the intended use and the agro-ecological region (mainly water availability).
In high potential areas, and with timber, transmission, and construction poles in mind, a spacing of 2-2.5m by 2-25m is ideal, while in arid and semi-arid areas, the spacing should be increased to 3m by 3m to reduce excessive competition for water.
Pests and Diseases
The common pest destroying eucalyptus trees in farmer fields from the tender stage is philid, a tiny insect that sucks up water from the leaves causing drying.
Other soil bone diseases include powdery mildew, which is a fungal disease that forms a whitish coating and causes young leaves to curl.
There are also Mycosphaerella leaf spots found on older leaves of most eucalyptus hybrid clones and local species, phytophthora root rot which affects mother trees used for producing cuttings.  It rots the roots and after wilting, the leaves, stems, and roots all die.
Another one is Cylindrocladium, a disease that prevails in humid climates and attacks cuttings of clones during rooting causing scourges on young seedlings.
The solution is for farmers to control by spraying the clones with Ridomil (Benlate) and Milraz chemical sprays.
Maturity and Harvesting
Maturity and ideal harvesting age are dependent on the intended purpose or market. The harvesting age significantly varies from three to four years (construction poles), eight to 15 years (transmission poles) to as late as 15-20 years for timber production.
The age at which the trees can be harvested is significantly dependent on the intended purpose and the market demand. The time the tree takes to reach harvestable maturity should, therefore, not scare potential eucalyptus tree producers from the investment.
The Value of Eucalyptus Trees
Growing of Eucalyptus is a viable income-generating initiative for farmers of all ages to take up. It serves as a woodland forest for climate change adaptation and business-related activities when processed. Farmers are advised to grow them in 5 – 10-acre land or beyond in order to reap big.