Agriculture is very diverse and if the youth in Uganda are to benefit from the various sections of farming, there is a need to diversify from crops to horticulture, floriculture, aquaculture, and other forms of farming.
In this segment of the, 'I'm An Agripreneur', we bring to you reasons why you should embrace Floriculture and how you can maximize profits.
Floriculture is a major global industry in both developing and developed countries. Global trade volume is estimated to be increasing every day. The main players are divisible into producers in developing countries and consumers in developed countries, including many in Africa.
The Floriculture sector is one of Uganda's top ten foreign exchange-earners contributing close to $ 30 million in export revenue according to officials at Rosebud Flower farm. The sector has grown from a single 2 hectares' farm in 1992 to 20 farms covering 192.1 hectares in 2009. As a result, the list of licensed flower growing and exporting companies in Uganda has grown enormously.
One of the prominent Ugandans involved in floriculture is city businessman Dr. Sudhir Ruparelia, who has invested heavily in his Rosebud Flower Farm project.  Based in Entebbe, Rosebud Ltd is the country's largest exporter of roses, commanding around 40% of Uganda's raised export market.
The greenhouses on the farm cover a total of 60 hectares producing and exporting over 180 million stems per annum. These stems, due to the favorable weather conditions experienced throughout the year, result in their all being of the same high standard. Rosebud Ltd solely specializes in the production of quality cut roses for export onto the world market.
The greenhouses are irrigated by a modern, automated water-pumping unit, which feeds the fully computerized hydroponics systems.
On the Rosebud Flower farm, the following two categories of roses are produced: Sweetheart Roses; Valentino (dark red), Viva (bright yellow), Chelsea (orange), Red Calypso (bright red), Meera (champagne), Akito (white), Blushing Akito (pink), Raspberry King (dark red), Jambo (bright red) and Intermediate Roses; Ace Pink (pink), Bella Rose (pink), Sunny Star (yellow), Furiosa (dark red), Tropical Amazone (orange), Banjo (pink), Labelle (peach), Sorraya (yellow), Athena (white).
However, it is important to note that you can start a small to medium-sized flower garden at home or anywhere you can find a place to grow flowers for sale. If you grow quality natural roses and other flowers, there are several local florists in Kampala or in your neighborhood who can buy them.
Flower Varieties
A farmer can plant many flower varieties including roses, Goblet, Dazzle, Exclusive Red and Pink, Serene, Lemon, Sea Pearl, Kalonhle, Dehinda, Pippi, Twisted Crimson, Dolly Epic and Amanlho and more.
Preparing a nursery bed
Salongo Peter Kanyike, a floriculture farmer, says that "In preparation to plant, a farmer should first plow the land and make different separate long gardens called nursery beds. The beds are between 45 and 65 per square meter dimensions.  
Then he/she should build a dark shade on top of the nursery gardens to prevent light and the sun from reaching the plants. More so, the humidity in the beds has to be low because once they are exposed to light, they may flower yet they are supposed to be exported as buds. And lastly, fumigate the soil against pests and diseases before planting so that the land gets sterile. We have been doing this with chemicals. "
He adds that; "Once the soil is sterile, you should plant similar varieties in similar nursery beds because the seeds have different gestation periods so if you mixed them up, you would probably not know when to harvest what.  Furthermore, after planting, the seeds take five to 10 weeks to germinate, once they have germinated, a farmer has to harvest them between five to 17 weeks depending on the variety."
It is important to water daily for the first week to keep the soil moist, but not soggy. After seven days, you can cut back to watering the flowers just a few times per week to encourage deep root growth.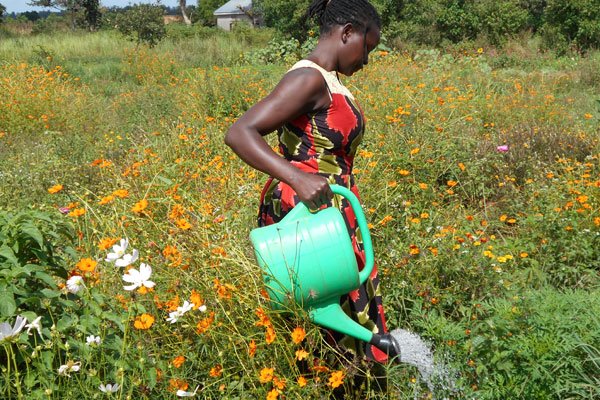 While roses and other flowers look pretty with water droplets glistening in the sun, wet foliage does nothing good for plants. Therefore, use a soaker hose to place the water exactly where it's needed on the soil. In doing so, you reduce evaporation, conserve water, and decrease the potential of disease. Simply place the hose at the base of your plants and cover with mulch.
Mulching
Mulch helps soil absorb water and maintain a constant level of moisture, apply approximately 3 inches of organic mulch evenly throughout your flower beds. Avoid placing mulch within 2 inches of the base of flowers and shrubs. Too much mulch against plants can encourage disease and become a home to damaging pests.
Impact of Flower Farming on Environment
The use of substrates will reduce the use of soil disinfectant chemicals and will allow the re-circulation of the nutrient solutions. Both of these production concepts are seen as important measures to reduce the impact that the sector has on the environment. Apart from the natural sweet scents, some flowers are grown for herbal and medicinal values, while others can have processed in perfumes.