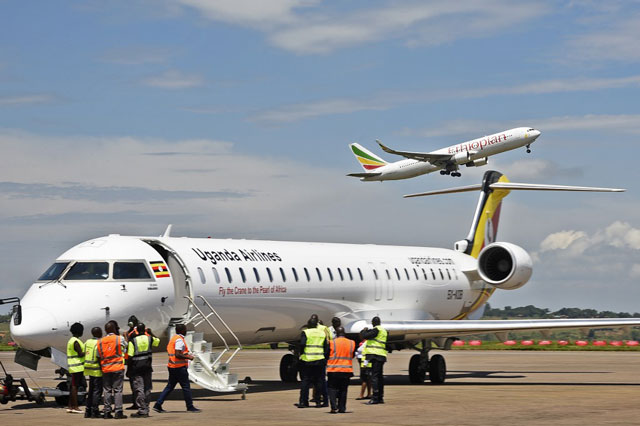 On 8th September, Uganda Civil Aviation Authority (UCCA) announced in a letter the resumption of International commercial passenger flights at Entebbe International Airport. Flights are set to resume on 1st October.
According to the letter written to airlines' executives, UCCA said that 13 flights, to and from the airport have been cleared for the first day, while 10 flights are confirmed for the second day. The letter is signed by Sooma Ayub, the UCAA director for Airports.
The list issued by Eng Sooma Ayub, the Director of Airports and Aviation Security, is for the next three months. Airliners resuming include the national carrier Uganda Airlines, Kenya Airways, Qatar Airways, Air Tanzania, Ethiopian Airlines, FlyDubai, RwandAir, KLM, Turkish Airlines, Emirates, Brussels Airlines, and Tarco Aviation. The flights will be from places such as Doha, Amsterdam, Addis Ababa, Juba, Kigali, and Nairobi.
The UCAA says the reopening will see the number of flights handled at the airport increasing gradually. The regulator also gave details of a revised weekly flight schedule for the first phase of the reopening which runs for three months.
Entebbe International Airport was closed to passenger traffic since March except for evacuation and repatriation flights and cargo. The only flights that were allowed to continue were repatriation flights of Ugandans stranded overseas due to the lockdown.
Due to this closure, UCAA had asked for $40 million to prepare the airport for reopening.
The Covid-19 National Taskforce headed by Prime Minister Ruhakana Rugunda last week proposed the reopening of Entebbe airport, borders, places of worship, and universities for final year medical students.
The task force recommended that Entebbe airport and borders should reopen on October 1. The proposals were sent to President Museveni for final consideration and approval.