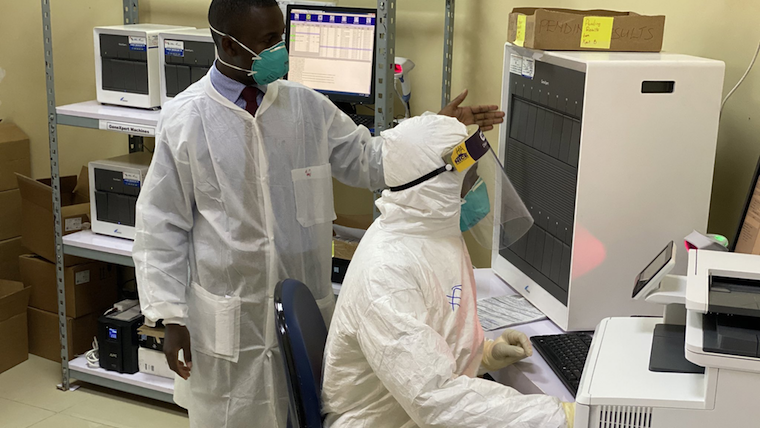 There is untold fear at the City Hall based Kampala Capital City Authority (KCCA), after one of their staff tested positive for Coronavirus (COVID-19), something that has brought business to a standstill as officials from the Ministry of Health monitors the situation.  
Officials from KCCA revealed in a statement released on Wednesday that one of their staff members has been quarantined after they tested positive following tests conducted by officials from the Ministry of Health.
The KCCA statement reads in part thus;
MEDIA STATEMENT ON COVID-19 CASE AT KCCA
In order to establish the COVIDI9 status at City Hall, KCCA carried out risk-based testing for COVID 19 for all her staff starting 26th August 2020.
The testing exercise was conducted by the Ministry of Health at the KCCA Headquarters. The results that were returned on 1st September 2020 reported one positive case at our Headquarters-City Hall.
Our staff has been counseled and safely evacuated to the designated Medical Centre for appropriate care while the KCCA COVID19 surveillance team conducts tracing of all the possible contacts.
KCCA appeals to the Public to observe the safety protocols as guided by Ministry Health-regularly wash hands with soap and water for at least 20 seconds and/or use an alcohol-based hand sanitizer, wear a face mask appropriately and maintain social distance while in public.
It is through adhering to these protocols that we will keep ourselves, others and workplaces safe.
For any suspected cons, please contact us on 0800990000 (Toll Free)."
It should be noted that this comes at a time when Uganda has so far registered 32 COVID-19 deaths, out of 3, 112 cumulative cases of infection and 1,528 recoveries.
KCCA has now joined the list of organizations that have registered COVID-19 cases like Vision group, Toyota Uganda, Shell, and Uganda National Oil Company among others.
However, officials from the Ministry of Health contend that Kampala is increasingly becoming a hot spot for COVID-19 infections after they discovered 75 new cases on Monday, many of them from the Kampala Metropolitan Area.