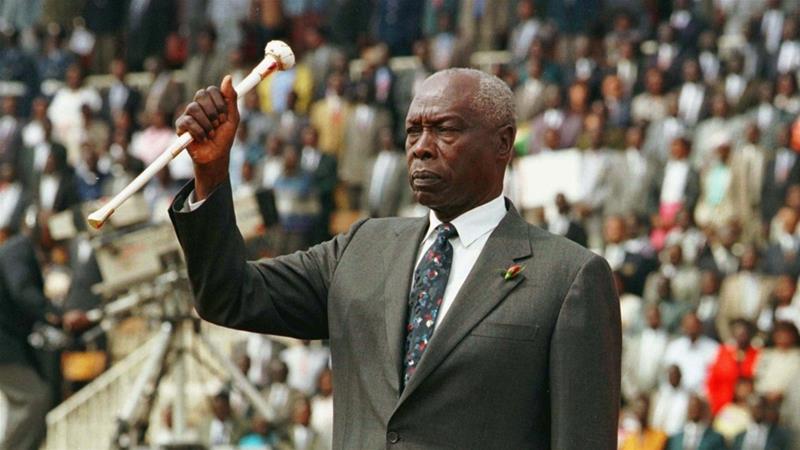 Kenya's former president, Daniel Arap Moi is to be laid to rest today at his estate in Kabarak, Nakuru County. This follows a colorful State Funeral yesterday at Nyayo Stadium in the Capital, Nairobi.  Leaders from various African nations attended the funeral for Kenya's longest-serving president who died at 95 last week. At the funeral, he was hailed as a peacemaker, a hero, and a humble man.

Loved by some, hated by many and feared by all, his rule was characterized by corruption and mass incarceration of political critics. During Moi's rule, thousands of activists, students, and academics were held without charge in underground cells known as the Nyayo torture chambers where Prisoners say they were beaten and tortured. Poverty grew worse on his watch, with many Kenyans fleeing the country particularly in the '80s and '90s in search of better opportunities. This event is known as the brain drain of the '90s.
Daniel Arap Moi came to power in 1978 when he was serving as vice-president after the nation's first President, Jomo Kenyatta died. He later won the elections in 1992 and 1997. But after 24 years, he was forced to step down in 2002. Since then, he has lived a relatively quiet life on his sprawling estate in Kabarak, Nakuru County in the Rift Valley.

He will be buried there today.
'Moi was everywhere'
Many of us can still recall the words of these songs in our sleep.
Christians say God inhabits the praises of his people. Mr Moi inhabited the lives of his people.
He was everywhere – on bank notes, in office portraits staring down at the workers, in statues, in the names of airports, sports stadiums, roads, colleges, milk, buses, schools and hospitals.
He stared at you through the numerous eyes of the secret police.
Politicians became court poets competing to see who was more loyal to President Moi.