By Isaac Tugume Nyabinghi
Passion fruits are one of the most highly bought fruits in Uganda and are quite easy to grow. The passion fruit is a perennial fruit and they grow while climbing onto others for support as they search for sunlight.
According to Moses Lubega, 33, a farmer in Kiwanga village, Seeta, Mukono district, Passion fruit farming can be profitable depending on the management. That is, if the management is good, the owner will earn more profits than if the management is poor. Lubega, who started farming passion fruits last year in March shared his experience and challenges he has met in this business so far.
Also read: Agripreneur: Why You Should Invest In Beekeeping
Qn: Why passion fruits?
Lubega: I chose to farm passion fruits because I have a passion for the venture. In fact one of my uncles had the same idea; he used to tell me how profitable passion fruit rowing is. So I got inspired and started growing them. Besides that, my friend in Masaka had the same business. However, he was doing it using traditional methods of farming although he was still benefiting. Therefore, when I visited him I got so inspired but vowed to use modern methods of farming like spraying, using fertilisers, etc and they have paid off for me.
More so, Farming passion fruits is also flexible; you don't need to be at the farm all time the way it is with poultry farming, where you have to monitor feeds and birds all the time. Here, I still attend to my other work after tending to my passion fruits.
Qn: How did you start?
Lubega: The first step is to have land; I rented 2 acres of land in Mukono, and started by clearing because the land was bushy. After clearing, the challenge was on how deep the holes should be, how to apply manure in the holes and all that. So I consulted one of my friends with the same business, who gave me some advice. After that, I planted a nursery bed of the chosen type and transplanted them to the main garden after two months.
Qn: Which variety do you grow and why?
Lubega: I grow Masaka variety (UPF 12) commonly known as one of the purple granadilla variety. The purple granadilla variety is popular for its powerful scent and thick juice. The Masaka variety is very good, drought-resistant, can last longer, it is not easily affected by diseases and its market is always ready compared to yellow and Kawanda hybrid variety.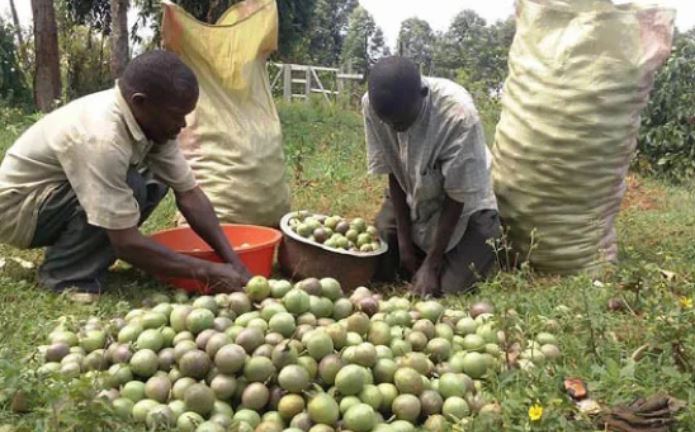 Qn: How do you retain your soil fertility?
Lubega: Basically, passion fruit plants require fertile soil with plenty of mineral supply in order to achieve optimum growth and yields. I apply manure (NPK and urea) every two weeks and spray the passion fruits with Indofil M45 and Dudu Axlemectin, Vegemax, Tufgul after every five days. However, farmers should take note that fertilizers ought not to be applied close to the fruit stem because this dries off the fruits completely. I also water the plants every morning and evening to ensure adequate water supply to the plants.
Qn: Is it so expensive to start passion fruit farming like people say or not?
Lubega: I won't say it's not expensive, because any profitable business out there is expensive in its own way. Farming passion fruit is challenging at the start, because it involves clearing the land, making a nursery bed, and setting up passion fruit trellis to provide support for the fruits, among other requirements.
Notably, Passion fruit is a climbing vine and growing passion fruits will need some tender loving care and support for healthy growth and yields. It is generally a very vigorous plant that grows very fast. Within a very short time, it will have bloomed quickly and created numerous stems and leaves. For that reason, farming passion fruit is expensive when starting but with time, the business supports itself.
Qn: How long do you take to harvest?
Lubega: Harvesting of passion fruit starts from 8 months especially for the purple ones. I harvest every week; I pick fruits when they turn from green to purple, and when the calyx has dried up, leaving a small stalk attached. For processing, fruits should preferably be left to drop on to clean mulch. They should not be plucked from their stems.
Qn: What is the expected lifespan of a passion fruit plant?
Lubega: Growing passion fruits can be tricky because they are very susceptible to all sorts of root problems. Usually, the plants are not all that long-lived; five to seven years is a long life for a passion fruit vine. However, a well-tended to, well-fed vines in a good location and healthy soil may live a lot longer.
Qn: Have you encountered any challenges in this business?
Lubega: Yes and my major challenge is the prolonged dry spell which arrives uninvited and adversely affects the fruits. I spend a lot of money on irrigation because I have to pay labour to irrigate two acres, which is a big space to cover. In addition, sometimes it is hard to get water for my plants during dry seasons.
More so, the resistant pests and diseases become a stumbling block and sometimes reoccur due to fake chemicals on the market. You end up spraying every day but nothing changes. I also have a challenge of thieves who reap what they have not sowed. The thieves are very many. They come at night and steal my fruits.
Qn: Any advice to your fellow youth who might want to join Passion Fruit Farming?
Lubega: My fellow youth should not only look up for clean jobs; I mean those who despise farming. You can as well work in offices but also do farming on a small scale to support your modest salary.
It should be noted that officials at the National Agricultural Advisory Services (NAADS) are encouraging farmers across the country to engage in passion fruit growing and are more than ready to offer experts advice on how can start up a passion fruit farm using minimum resources.