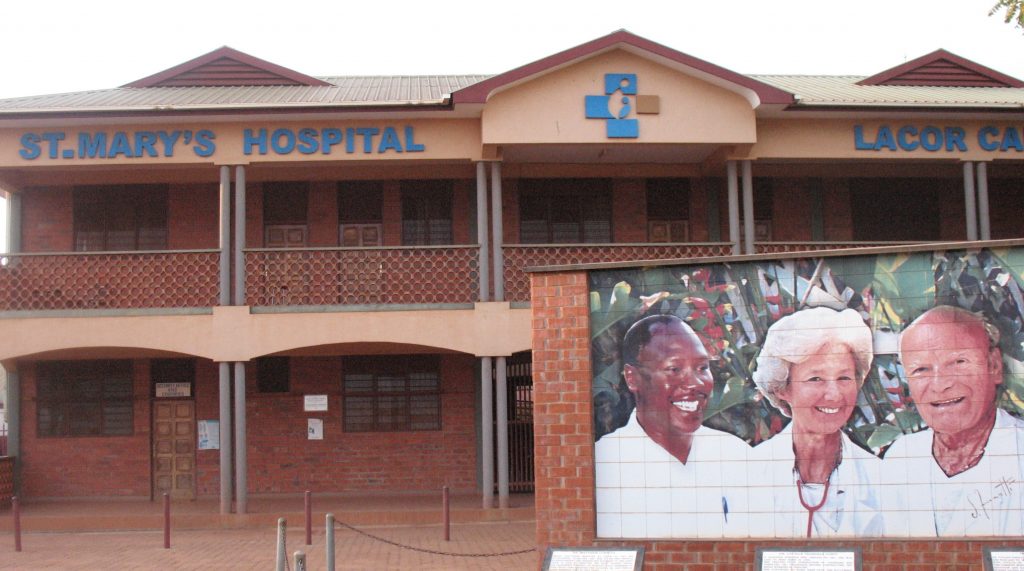 Officials from the Ministry of Health (MOH) have urged all Ugandans to remain calm after medics from St. Mary's Lacor Hospital in Gulu district, issued a statement indicating that 2 patients had died in the Isolation Ward after being admitted with signs of Coronavirus (COVID-19)
Several Ugandans had started panicking after Lacor Hospital, which was the epicenter of the Ebola outbreak treatment a few years back, revealed in the statement dated April 27, 2020, that they had admitted 3 patients, but two of them who showed signs of Coronavirus had died in Isolation.
The Statement from Lacor Hospital is reproduced here below;
"Re: Death of 2 Patients From Lacor Hospital Isolation Ward
There has been rumours circulating that 2 suspected patients of COVID-19 died from Lacor Hospital Isolation Ward.
As a Hospital we would like to inform the public that since the course of last week the Hospital received 3 patients that presented with signs similar to that of COVID-19.
Unfortunately, 2 of the patients passed away yesterday. Those 2 patients were referrals from other neighbouring Health Facilities and came with other underlying diseases. They also reached the hospital in very critical condition.
The reason we isolated them is because of the other underlying conditions they met the MoH criteria for Coronavirus suspicion. We are now waiting for the results of the samples from these patients.
As a Hospital we continue to be very alert and to screen all our clients at all entry points into the Hospital.
As of today Monday, April 27, 2020, Lacor Hospital has no confirmed case of COVID-19.
We urge the public to remain calm but vigilant and to report or refer any person who may be having signs and symptoms of Coronavirus."
However, the Ministry of Health has since downplayed rumors that the 2 patients at Lacor Hospital died of Coronavirus. In a tweet posted on Tuesday, the MOH revealed that samples from the deceased had been sent to the Uganda Virus Research Institute (UVRI) for testing and that results would be availed to the public soon.
Here below is the tweet from Ministry of Health;
"@MinofHealthUG has noted a statement issued by Lacor Hospital on the death of 2 COVID-19 suspected patients. Samples have been taken to @UVRIug
for testing and we shall communicate results shortly. We appeal to the population to remain calm and practice preventive measures."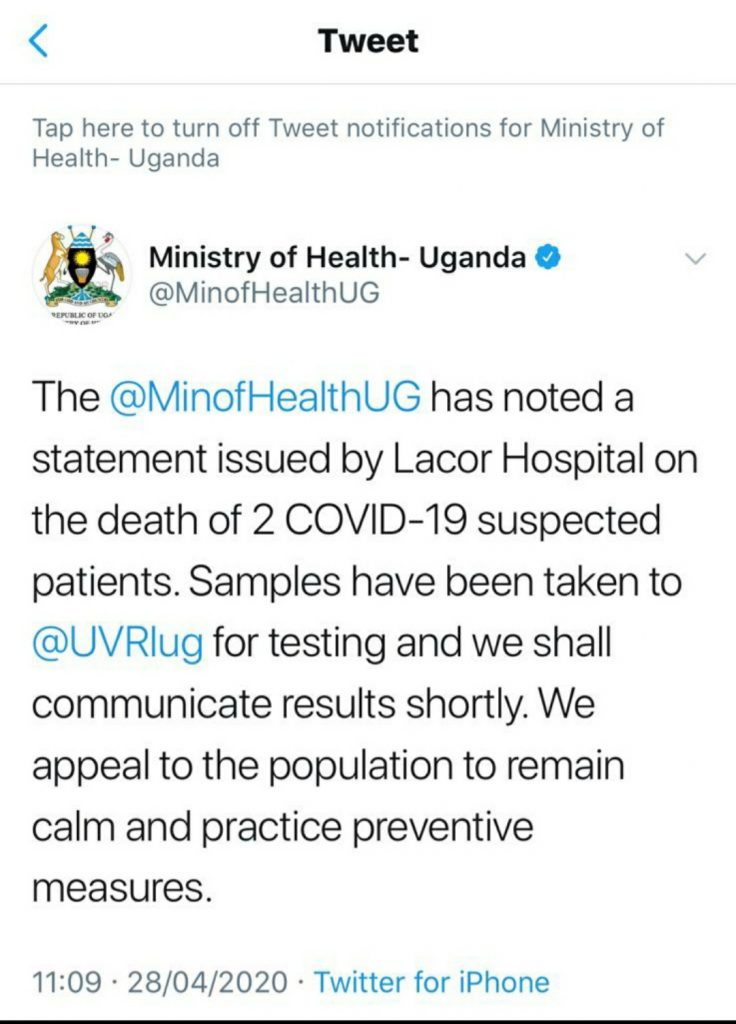 Meanwhile, the Ministry also revealed that; "5 patients who were previously confirmed for COVID-19 have recovered, tested negative twice for the disease and discharged from hospital. 3 were discharged from Entebbe Hospital while 2 patients were discharged from Mulago Hospital. Total recoveries now stand at: 52 out of 79 cases."