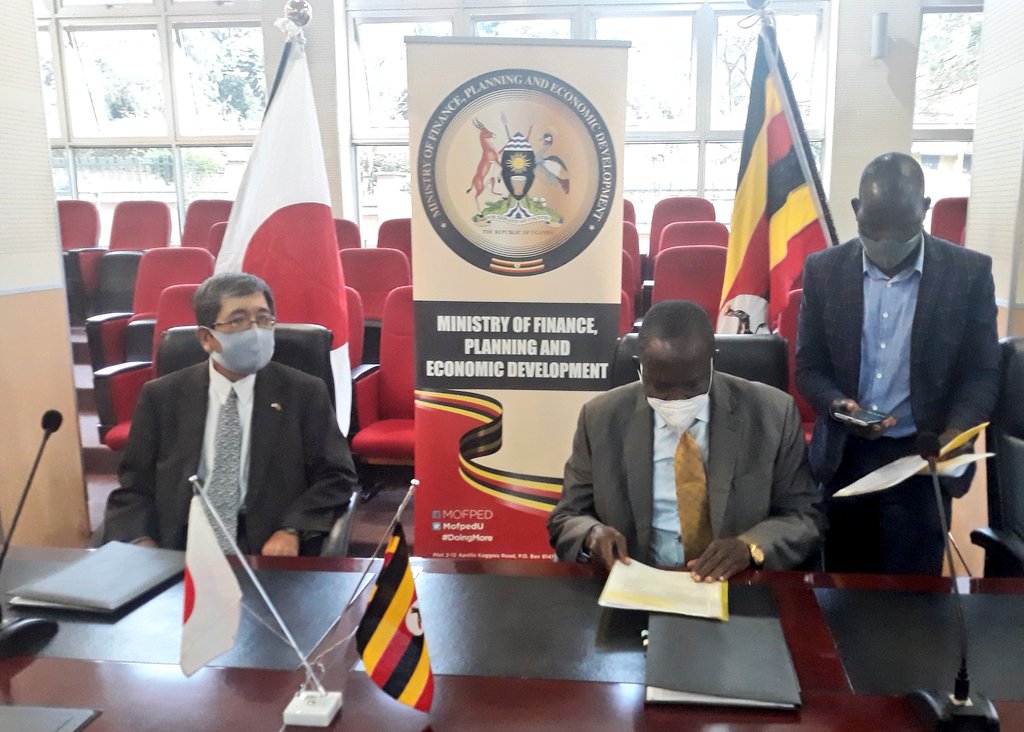 The Ministry of Health has received a USD3.72 million grant from the government of Japan in a bid to boost the fight against Coronavirus (COVID-19).
The grant agreement was signed by the Minister for Finance, Planning and Economic Development (MOFPED) Hon. Matia Kasaija and the Japanese ambassador to Uganda H.E Kazuaki Kameda.
The money will be channelled directly to the Ministry of Health such that it can purchase medical equipment like testing kits, protective wear for medics, ambulances and other equipment needed to enhance the fight against COVID-19.
Currently, the number of Coronavirus deaths in Uganda has risen to 64 out of 6,712 cases. The new COVID-19 death is a male who was a resident of Kampala.
It should be noted that information from the Ministry of Health indicates that results of COVID-19 tests done on 21 September 2020 confirmed 244 new cases, raising the cumulative confirmed cases of Ugandans to 6,712, with 2,778 total recoveries.
The new cases of infection include; Kisoro (3), Kumi (3), Mitooma (3), Nabilatuk (2), Bulambuli (2), Butaleja (2), Soroti (2), Wakiso (2), Abim (1), Buikwe (1), Bunyangabu (1), Kabarole (1), Kapchorwa (1), Kotido (1), Isingiro (1), Mbarara (1), Moyo (1), Ngora (1), Sironko (1), Tororo (1) and Zombo (1)
Apart from the COVID-19 grant, Japan is actively involved in several developmental projects in Uganda like the commissioning of the Source of the Nile Bridge at Jinja in last October, which was largely financed by Japan and constructed by a consortium whose main partner is Japanese Zenitaka Corporation, attracted tremendous attention of Ugandan people to Japan's willingness for international cooperation with Uganda.
Japan is also deeply involved in the financing and construction of the new Kampala Flyover project which is currently underway.
Japan is steadily promoting partnership with African countries through Tokyo International Conference on African Development (TICAD) process and is committed to boosting economic growth, achieving the Millennium Development Goals (MDGs) and consolidation of peace and good governance in Africa.
It is also important to note that the Embassy of Japan in Uganda provides financial assistance to non-profit, development-oriented organizations in support of community development projects in Uganda.
Any projects geared towards grassroots assistance are eligible for financing, including water and sanitation, disaster relief, and agricultural development.
The grant amount per project is generally under 10 million yen (approx. US$100thousand).
Potential recipients are international or local NGOs, community-based organizations, educational institutions and local governments.
The Embassy receives concept papers anytime throughout the year, but the selection process is conducted twice a year.