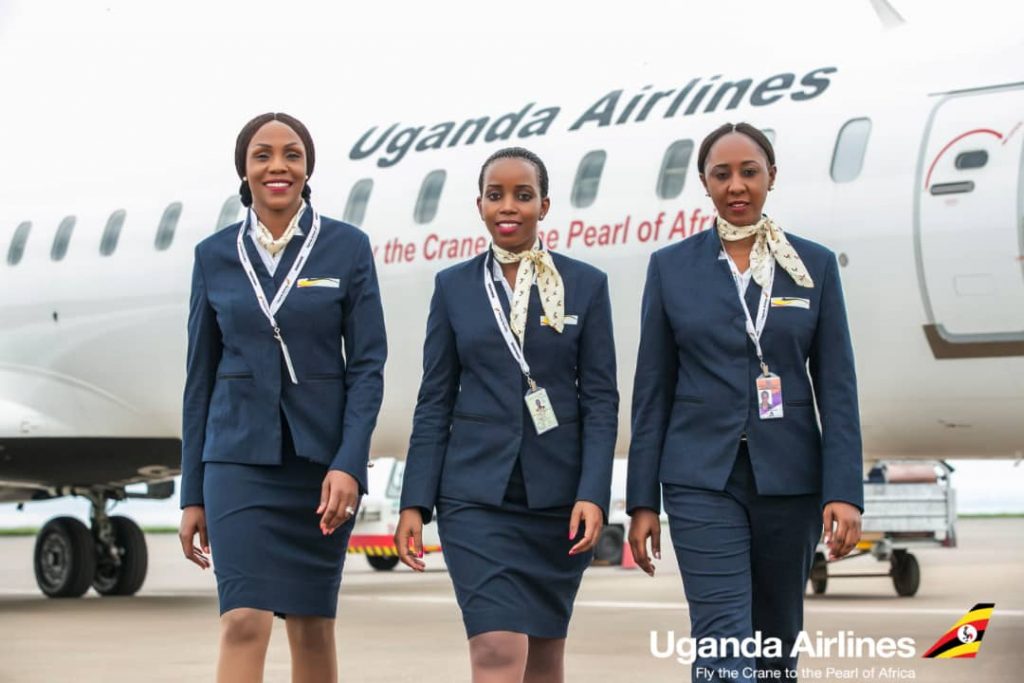 The Civil Aviation Authority (CAA) and Uganda Airlines have announced October 1st, 2020 as the date for the resumption of scheduled passenger flights at Entebbe International Airport.
Uganda Airlines revealed their intent to resume passenger flights in a statement released Monday evening, in which the national Airliner announced that the flights will be to and from cities like Nairobi, Dar-es-Salaam, Juba, Mogadishu, Bujumbura, Kilimanjaro, Zanzibar and Mombasa.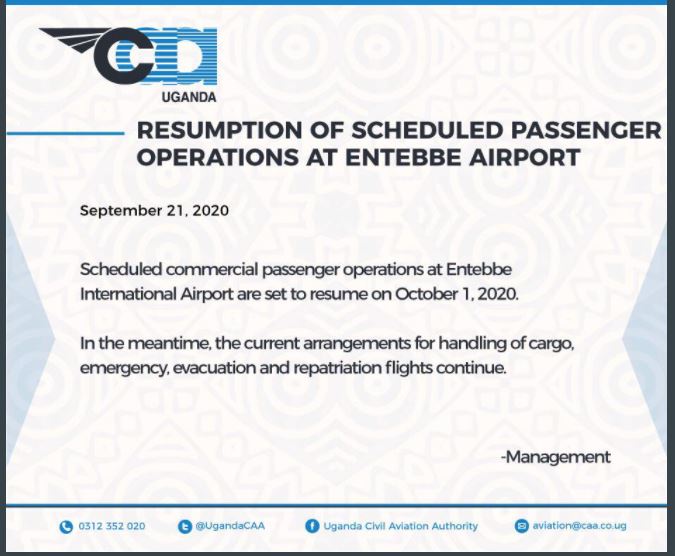 It should be noted that during his COVID-19 National Address on Sunday, September 20th, 2020, President Yoweri Kaguta Museveni announced the lifting of the suspension of passenger flights at Entebbe International Airport which was announced in March this year as a measure of preventing the spread of Coronavirus.
 So following the Presidential directive of lifting the suspension of passenger flights and opening up borders, the Civil Aviation Authority is ready to handle incoming and departing flights, while Uganda Airlines is also set to resume international flights to and from various cities across Africa.
Museveni made it categorically clear that the passenger flights at Entebbe Airport are open to tourists and international visitors, among them business delegates.
Since the COVID-19 pandemic broke out, air transport, which was one of Uganda's biggest sources of revenue especially due to the inflow of tourists, was adversely affected as a result of the lockdown.
"Our plans for network expansion will continue and we launch scheduled operations to Johannesburg, Kinshasha, Harare and Lusaka in the coming months," a source at Uganda Airlines told this website.
However, the source added that Uganda Airlines has put in place strict Standard Operating Procedures(SOPs) to ensure that all passengers arriving in Uganda must possess a negative COVID-19 PCR test result from an accredited laboratory or hospital from their country of origin.
One of the regulations about the PCR test is that it should have been conducted within the last 72 hours before the scheduled departure from the country of origin to Uganda.
On the other hand, all Ugandans returning from abroad who have negative PCR results will be allowed to go home, and the Health Ministry will be provided with their address for easy monitoring, instead of being subjected to the mandatory 14-day quarantine like the case has been before.
Resumption of passenger flights is one of the measures through which the government aims to revive the tourism industry and other sectors of the economy that were adversely affected by the COVID-19 pandemic and its resultant lockdown.