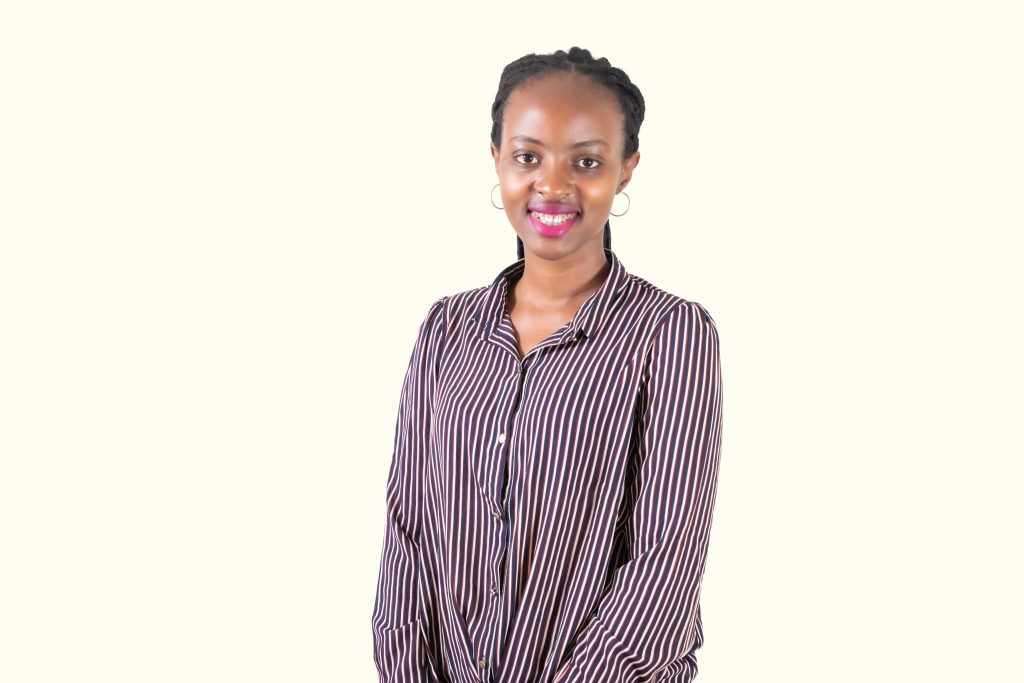 From a humble Christian background, the story of Ms. Joanita Asiimire is a powerful inspiration for many young girls who look forward to joining the field of Journalism and Communication. At her young age, she has challenged the odds of the system by establishing herself as a professional communicator with the capacity to lead communications.
We were honored to have a one on one interview with Ms. Asiimire and she took us through her career development journey right from the University to where she is now. This is a must-read for anyone wondering which path to choose between journalism and communication.
QN: How would you describe yourself?
I am a multi-skilled Communications Specialist who is passionate about curating content, storytelling using multiple channels; Risk Communications, Emergency Communications, Strategic Marketing, and Communications. Faith is the greatest pillar of my life and this was inspired by spending most of my childhood serving in a small family church. I love to travel, cook new dishes, play chess, and blog about lifestyle. I enjoy learning, so I am always taking up personal and career development courses. I love to listen and understand people's lives, stories, and journeys, which is why I thrive with inter-personal conversations.
QN: Currently, what is your role at World Vision?
I currently work as a Communications Manager at World Vision.
QN: I understand that you were promoted to your current role not very long ago, how did you start out at World Vision and what are some of the aspects about you that you believe pushed you to the top?
I joined World Vision two years ago as a Communications Officer immediately after University. Before that, I worked as an Audio/Visual and Content Curator at a media & tech company. When I joined the Humanitarian world, I took interest in many things like Emergency Communications, Advocacy, Reputation Management, Digital, and Mainstream Media Management, so I learned how to do all of them. I am generally an enthusiastic and self-driven person; I always take initiative, make use of every opportunity, and do everything with Excellency. One year later, the Communications Manager who was my immediate supervisor left, and the National Director asked that I lead the team as the Interim Communications Manager.
During that time I also took up Leadership and professional courses, got mentors, and consulted as much as I could which prepared me and gave me confidence for the role. I acknowledge that God held my hand and led me through it all.
QN: You majored in Journalism and even practiced it for some time, what inspired you to switch to public relations?
It was always my plan while at the University, I wanted to practice Journalism for 5 years, Public Relations for 5 years and eventually venture into private practice. I started on this plan while studying at University and 3 years into Journalism, I got the opportunity to move to Communications & Public Relations, which I believe was timely. At the time, I needed a more strategic and professional role which I did not feel while in Journalism. Professionalization of Journalism in Uganda and East Africa is still a dream and so I did not feel as inspired and challenged while I practiced.
QN: How has the transition from Journalism to PR been for you? What has your experience been like in terms of the similarities and differences between PR and journalism?
The similarities of both for me so far are a bit personal. Part of my Journalism practice was specialized in telling stories about Children and offering a platform to express themselves, in my current Communications and Public Relations role, I tell stories of the most vulnerable children, I have been able to serve this special group that I am passionate about in both professions.
Journalism will forever feel like home, however, I don't feel like there is much freedom to get creative and innovative, on the other hand, Public Relations, Corporate Communications, Public Engagement, and the like, are dynamic and ever-evolving, which is what I enjoy most because I get to evolve with the profession.
Continuous personal development to acquire the skills and capabilities to lead public relations and communications in a dynamic way. There is a variety of things to learn every day; I am open to learning, which is to my advantage anyway. I have had to sign up for courses in Leadership, Marketing, Brand Management, and Digital, among others.
Public Relations, which is a central part of Communication needs innovative minds, I have to find new effective ways of reaching and engaging stakeholders every day.
You have to communicate your vision with clarity and simplicity for the key stakeholders to perceive and understand it.
Consult, ask, inquire, and repeat the process, there is nothing new under the sun; someone will always have an idea of how something could be done easily and faster. Look around you and get a mentor or a coach.
QN: For anyone out there thinking of switching careers from journalism to PR, what would your advice be to them?
We live in a free world where nothing is impossible. I am a proponent of change and growth on every level as long there is justification. Passion, purpose, and fulfillment should be among the reasons for switching career and profession because these factors keep you going especially on bad days.
QN: As a PR at World Vision, what are some of the strategies that you have decided to employ to keep the organization functioning during these COVID-19 times?
Teams were equipped with the necessary tools for business continuity while ensuring safety. This way, our annual plans faced less disruption and we were able to support the COVID-19 Response effectively.
The teams were able to adjust quickly to a new way of working. Information had to be broken down into multiple channels to reach multiple audiences fast.
So many things changed and so was the availability of opportunities. The public was hungry for information, most people spent hours scrolling through their phones and watching television. This led to information overload and lack of credibility, which caused to need a sense of hope and trust, and this was an opportunity for us to position ourselves as the brand of choice.
We benchmarked countries that first dealt with the pandemic. By March 2020, China was recovering from the crisis. Colleagues in China shared experiences and learnings that we were able to pick from.
QN: What is your take on the role of PR in combating the spread of COVID-19 in Uganda? Should organizations embrace PR strategies as a way of communicating better about the coronavirus?
Risk Communication is an essential part of responding to any crisis especially a highly contagious pandemic like COVID-19. People need as much reliable and accurate information as possible to stay safe and make informed decisions. Both internal and external stakeholders need to have Integrated Education Communication materials for their safety.
QN: World Vision seeks to address the causes and effects of poverty through development, relief, and advocacy. What is the organization doing currently to support livelihoods in Uganda that have been affected by the pandemic?
Recovery of livelihoods is a key objective of World Vision's phase II response to the pandemic, among others like Child Protection and Education.
World Vision recognized that the secondary impacts of COVID-19 will threaten many more children's lives than COVID-19 itself, and drawing on a deep well of technical expertise, World Vision Uganda is working to enhance food security for the most vulnerable children and their families using market-based approaches to strengthen the local economy. This includes cash and voucher assistance, food distributions, the establishment of cereal banks, and enhanced recovery pathways to financial inclusion
QN: What are some of the challenges you have faced as a PR during these COVID times and how did you overcome them?
Work for almost all Communication Departments tripled which caused a lot of adjustments and flexibility on so many levels. Behind Communications & PR departments are individuals who were experiencing the crisis individually.
Working from home was alien to our context here and many other limitations to work as we were used to.
At the same time, I had to be grateful for the opportunity to work, be alive and safe, while able to make an impact, which motivated me to look ahead of the limitations.
QN: One of the biggest scandals from the COVID-19 donations in Uganda was the donation which was made by World Vision. The general public claimed that in actual sense it wasn't a donation since that's what World Vision does on a daily basis. What is your comment on that and which strategies do you recommend for a PRO dealing with a similar crisis?
It's true that World Vision has responded to major emergencies and crises in the world for the last 70 years including the Ethiopian Famine (1983), Vietnam Refugee crisis (1975) HIV/AIDS (1981) Rwandan Genocide (1994) Syrian Refugee crisis, Korea War (2011), Ebola outbreak (2014), South Sudanese Refugee crisis (2017), Haiti Earthquake (2010), Indian Ocean Tsunami (2000), among others, however, World Vision was also facing a new crisis with COVID-19, no humanitarian actor or government had dealt with something similar before.
World Vision Uganda had to designate over UGX 15 billion from its development programs in Health, Education, Water & Sanitation, Livelihoods, and Refugee Response to the COVID-19 Emergency Response program.
Any PRO or Communications person has to efficiently and effectively communicate with both internal and external stakeholders during any crisis. This explains why no Organization closed its PR and Communications offices during the crisis – it is essential.
QN: For someone who isn't familiar with World Vision, how would you describe it in a paragraph?
World Vision's purpose is to contribute to increased and sustained wellbeing for children, especially the most vulnerable. World Vision Uganda has reached 6 million children in the last 5 years with access to quality health care, education, safe water, and food security. World Vision remains committed to going to the hardest to reach areas to deliver on the promise to the most vulnerable children.
"Let my heart be broken by the things that break the heart of God."
Robert Pierce, Founder (1950) – Word Vision