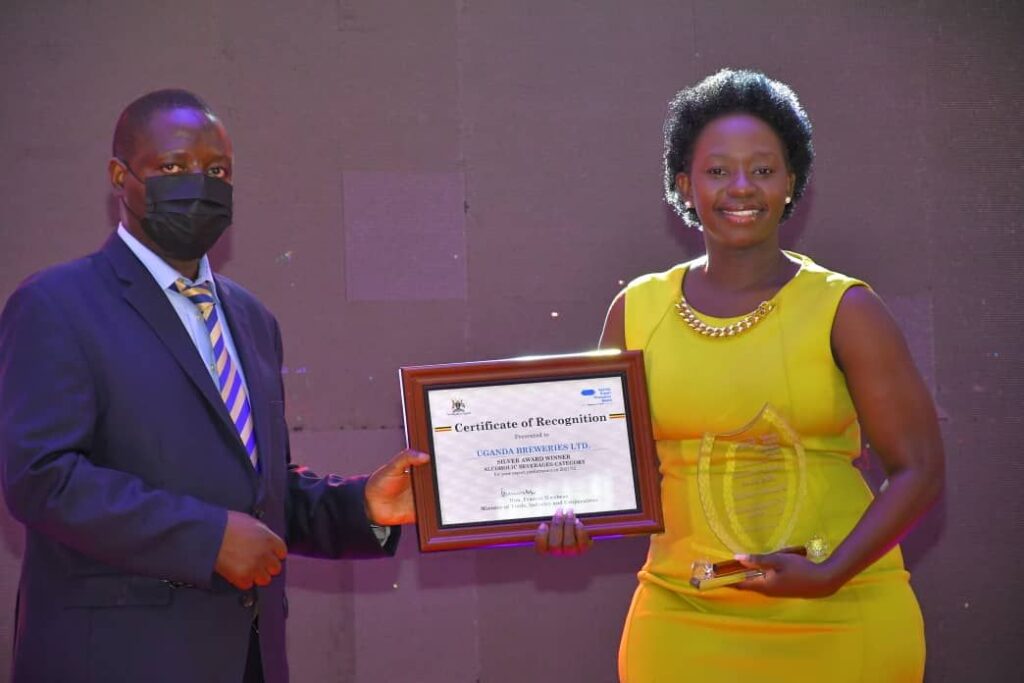 Uganda Breweries Recognized at the President's Export Award Ceremony
Uganda Breweries has been recognized by President Museveni and the Uganda Export Promotion Board as a leading company in export promotion and import substitution.
This was at Imperial Royale Hotel, where President Museveni (who is Rwanda for the Common wealth Heads of Government Meeting – CHOGM) was represented by 3rd Deputy Prime Minister Hon. Lukia Isanga Nakadama.
As part of government strategies to recover from the effects of COVID-19, the Ministry of Finance and the Ministry of Trade, Industries and Cooperatives have been implementing and encouraging import substitution and export promotion in order to reduce the dependence of inputs and final goods in similar emergencies.
Present at the ceremony to receive the award was the UBL MD Andrew Itambo Kilonzo and UBL Corporate Relations Manager Jackie Tahakanizibwa.
Speaking at the ceremony, Mr. Kilonzo acknowledged the team at UBL for making significant investment in the country to increase local production capacity, create jobs and promote exports.
"We are happy to have been recognized by the highest office in the land. UBL has made significant long-term investment in Uganda aimed at boosting local production capacity, import substitution, export promotion and job creation. This award is an affirmation that we continue to be fully committed to building a sustainable world class business in Uganda." He said.
UBL has in the past year exported huge quantities of Uganda Waragi (our main export), Bell Lager, Guinness Foreign Extra, V & A Imperial Cream, Bond 7 Whiskey and Senator Extra among others to markets abroad – something that has helped the country gain a lot of Export Income and has increased revenue generation for the country's budgeting.
We are proud to be walking hand in hand with the nation in achieving development for our customers and the people of Uganda.